Occupational safety of the Water Park
The Water Park «Odessa» is a place where everyone can refine the skill of swimming, strengthen their physical health. Along with this, the park has all the conditions for active and passive recreation. Do you want thrill, vivid emotions? Choose steep slides. Prefer a tan and a relaxing swim with hydromassage? Then your choice is one of three pools.
All attractions of our water park are the result of long engineering work. Each detail is designed for both constructive purpose and safety for visitors. All structures are tested in the off-season, and in case of a hint of material "fatigue", they are quickly replaced by experienced specialists.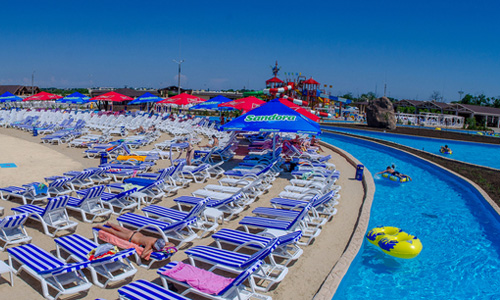 We ask all visitors to the water park to observe the safety rules, to treat the requirements with understanding. The administration of the water park is not responsible for the consequences resulting from ignoring the safety rules. We also reserve the right to remove violators of established norms from the territory of the water park without refund of the entrance ticket.
The water park is a public place, so it is very important that every visitor is aware of the responsibility for his actions.
IT IS FORBIDDEN
Bring food, water, alcohol, cocktails, all types of beer and any other drinks to the territory of the Water Park.
At your service - restaurants, cafe-bars, etc.