Water Slide
Barrel
For fans of thrills, there are also extreme, steep water slides in our water park.One of them is the water slide Barrel. You will be lowered on an inflatable circle along the labyrinths of a closed tunnel from the height of a seven-story building. At a speed of up to 10 m/s, you will pass along the serpentine route (length 200 m), and then fly into the channel of an artificial river. Here you can relax, soak up and calm down after a dose of adrenaline.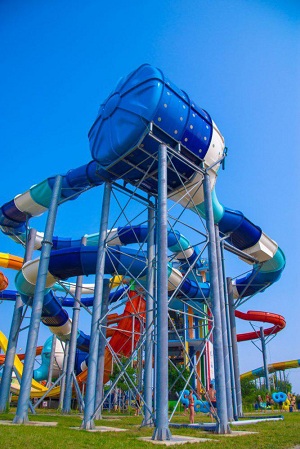 Water Slide Barrel –is not the only extreme entertainment in our water park. There are still many unique attractions where the dizzying descent begins at an altitude of up to 20 metres. You will also like giant slides with sensations not for the faint-hearted - Rocket, Kamikaze, Blue River.
While your little children will be engaged in swimming in the educational pools and have fun in the children's area, experience exciting emotions on the protracted descents, feel all the delights of free fall.