A dining in aquapark
The water park has a fast food cafe and two restaurants. Restaurant, pizzeria and «circle bar». Let's start with the last one.
The circle bar is a fast food cafe where you can quickly quench hunger and thirst. The circle bar is located at the end of the main street, at the crossroads between the sandy beach and the entrance to the slides.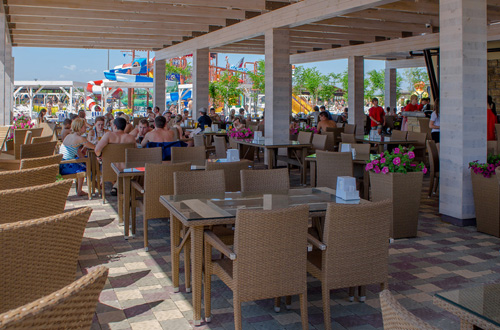 The pizzeria is located to the right of the main entrance (if you stand with your back to it). The drinks menu has no difference from a circle bar or restaurant, but the cuisine is different.
The restaurant is located on the opposite side of the pizzeria, closer to the slides and the children's aqua-town. There you can order dishes from national, Odessa, Italian and Mexican cuisine.
Each of the cafes has adopted standards of fast and high-quality service. Professional chefs are ready to please even gourmets with their exquisite works of art. They are also always open to dialogue. If you have suggestions or wishes for adding any dishes to the menu of our cafes, you can always send your proposal in the form of a review by e-mail: info@aquaparkodessa.com.ua

The most desirable and meal solutions will be included in the menu of our cafes.