Rivers and Pools
As many as 3 pools are located on the territory of the Odessa water park, and a 1.5 km river flows. These resources are more than enough for a measured calm rest, taking sun baths.
The pride of our park is a pool with hydromassage. It's like a big jacuzzi, available for bathing several dozen people at a time. The pool with hydromassage is located on the left side of the main entrance. Around the bowl there are sun loungers for comfortable accommodation for guests of the water park. We recommend to plunge into the warm bubbling water after a busy working week. You will immediately feel a pleasant relaxing effect, and then - a powerful surge of energy.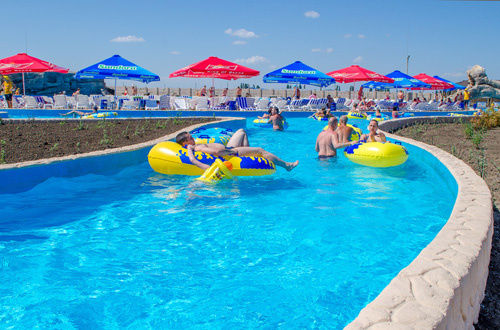 Large pool
The large pool is an enlarged copy of the usual one, and its main "feature" is a waterfall. Turn to the right, passing through the central entrance of the water park, and you will certainly find yourself near a large pool. The depth of the bowl is 140 cm, the constant water temperature is +22 degrees.
Wave pool
The wave pool is a place for fun by the whole family. Waves are created artificially, so their intensity and height are strictly controlled. The pool is located in the far part of the park, near the sandy beach, and justly considered to be the best place for a merry outdoor activity.
River on the territory of the water park
The lazy river stretches from the slides, goes around the sandy beach, passes under the bridge and along the wave pool. The current is quite strong - 5 km / h. This allows you to get down the river to the slides or exit without additional effort.